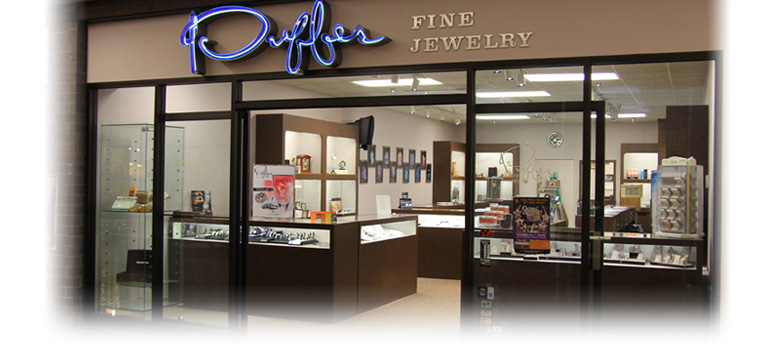 PUFFES FINE JEWELRY LOCATED IN THE MOORHEAD CENTER MALL IS MOORHEAD'S OLDEST JEWELRY STORE.
HARRY PUFFE STARTED IN THE JEWELRY INDUSTRY BACK IN 1955 AS A BOOKKEEPER, A SALESMAN, AND GEMOLOGICAL INSTITUTES OF AMERICA ( GIA ) DIAMOND GRADUATE.
AFTER YEARS OF WORKING IN THE JEWELRY INDUSTRY, HE DECIDED TO OPEN HIS OWN STORE. THAT DREAM BECAME REALITY IN 1975. HIS SON SCOTT PUFFE, WHO STARTED HIS JEWELRY CAREER IN 1973, JOINED THE FAMILY STORE AS A SALESMAN AND GOLDSMITH.
FAMILY OWNED AND OPERATED TO SERVICE ALL YOUR JEWELRY NEEDS, LET SCOTT OR HARRY AND THEIR EDUCATED STAFF SERVICE YOU. SHOP PUFFES FINE JEWELRY FOR ALL YOUR BRIDAL, ENGAGEMENT RINGS, WEDDING BANDS, DIAMOND PENDENTS, EARRINGS, ALONG WITH COLORED GEM STONES, PEARLS, AND WATCHES. FINE JEWELRY IS AVAILABLE IN AN ARRAY OF METALS; STERLING SILVER, 14 AND 10 KARAT GOLD WHITE OR YELLOW, AND THE NEW TREND OF ROSE GOLD. WITH ON-SITE JEWELRY REPAIR THEY CAN SERVICE YOUR JEWELRY IN A TIMELY FASHION. BUYING FINE JEWELRY IS A VERY PERSONAL EXPERIENCE. ETHICS SET FORTH FROM JEWELERS OF AMERICA (JA), AND GEMOLOGICAL INSTITUTE OF AMERICA, (GIA), ASSURE A HIGH STANDARD HAS BEEN SET FOR YOU. LET PUFFES HELP YOU FIND THAT SPECIAL GIFT FOR YOUR JEWELRY GIVING OCCASIONS WITH CONFIDENCE THAT YOU HAVE MADE A WISE PURCHASE. WHEN SHOPPING AT PUFFES FINE JEWELRY ---- "WHERE YOU BUY WITH CONFIDENCE AND GUARANTEED VALUE."